Environment
Novell ZENworks 10 Configuration Management with Support Pack 1 - 10.1 Bundles

Situation
If you import a .reg file that contains the instruction to delete a key (a minus after the open square bracket), the action that is created will delete all keys in that branch.
e.g.,
Windows Registry Editor Version 5.00
[-HKEY_LOCAL_MACHINE\SOFTWARE\Microsoft\Windows\CurrentVersion\Run\OptionalComponents\IMAIL]

Will create an action that will delete HKLM\software\microsoft and everything below that.
Resolution
This is fixed in version 10.1.2 - see
KB 7001914
"ZENworks 10 Configuration Management 10.1.2" which can be found at
https://www.novell.com/support
Workaround 1:
Completely expand the branch for the hive you are updating, ensure you change the setting for each of the higher levels from "
Delete
", to "
None
"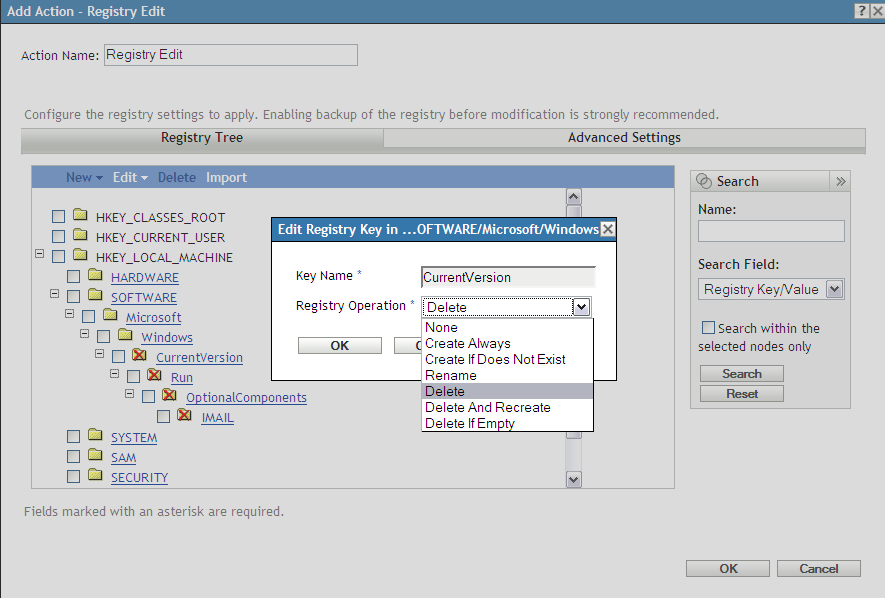 Workaround 2:
edit the .reg file before importing, and for each line that deletes a registry key, add a line to "create" the structure above it - e.g., in the example above,
[-HKEY_LOCAL_MACHINE\SOFTWARE\Microsoft\Windows\CurrentVersion\Run\OptionalComponents\IMAIL]

would need the following to be placed above it in the file
[HKEY_LOCAL_MACHINE\SOFTWARE\Microsoft\Windows\CurrentVersion\Run\OptionalComponents]