Environment
Novell ZENworks Endpoint Security Management
Microsoft SQL 2000
Microsoft SQL 2005
Microsoft Windows Server 2003 Enterprise Edition
Microsoft Windows Server 2003 Standard Edition
Microsoft Windows XP Tablet PC Edition
Microsoft Windows XP Professional
Microsoft Windows 2000 Professional
Microsoft Windows 2000 Advanced Server
Microsoft Windows 2000 Server
Microsoft Windows 2000
Situation
How to configure the ESM Management Console for eDirectory.
Resolution
1.
Click the Novell eDirectory button so it is highlighted and enter a friendly name.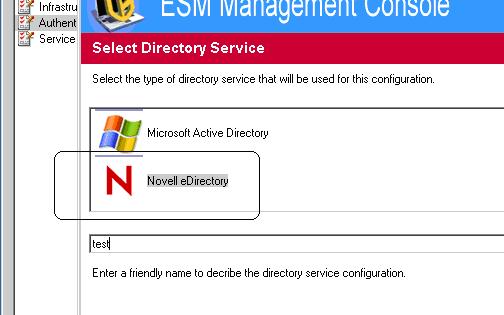 If you see a browse button on this screen it means you left the previous screen at its default which has Microsoft Active Directory selected as the directory service type.

If this happens click the back button and select Novell eDirectory.

If selected the screen should look like the screen below without a browse button.
Enter the eDirectory servers IP address (do not use DNS name) the port used to communicate to eDirectory and if TLS is being used check the enable encryption box.

Do not use customized ports, this build only supports the default ports (389 with out TLS and 636 if you are using TLS).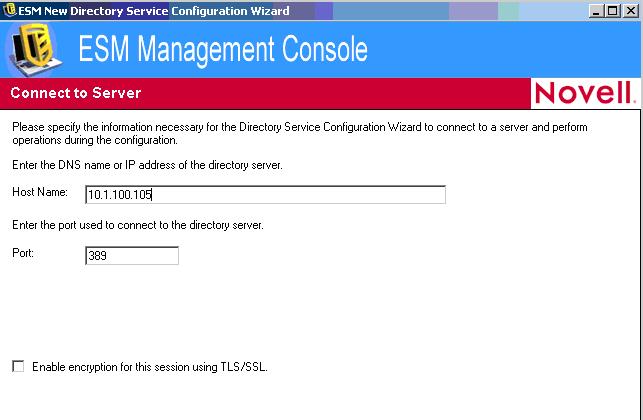 4. Enter the username, password and context.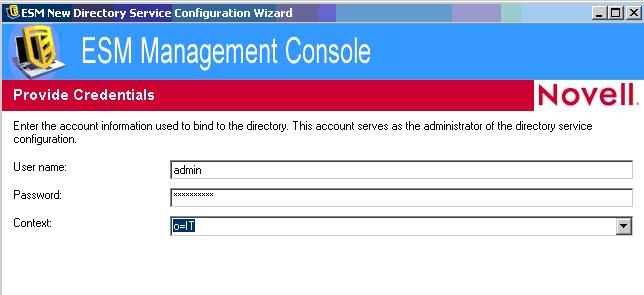 5.
Check the desired directory partitions.

6.
Check the containers you want the ESM management console to listen for, usually this will be the containers that contain users that will be receiving ZESM policies.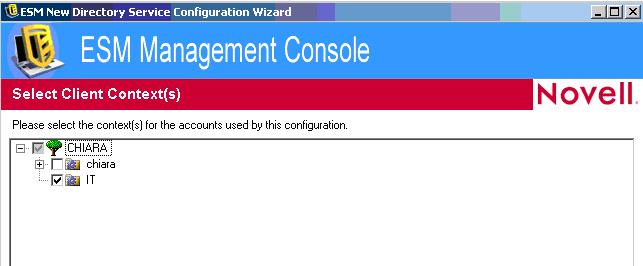 7.
Check the containers that are needed to be displayed in the ESM Management Console's publish screen for future policy distribution.

8. The next screen does its sync and if everything goes well a message will be displayed showing the configuration succeeded.