Environment
Novell iManager 2.7
Novell iManager 2.6
Novell Apache on NetWare 2.0.48
Novell SUSE Linux Enterprise Server 10
Novell Open Enterprise Server (Linux based)
Novell Open Enterprise Server (NetWare based)
Novell Certificate Server (PKIS)

Situation
When browsing to iManager 2.x a Security Alert window appears.
Resolution
The
Security Alert
window may warn on any of the following:
1. The security certificate was issued by a company you have not chosen to trust.
2. The security certificate has expired or is not yet valid.
3. The name on the security certificate is invalid or does not match the name of the site.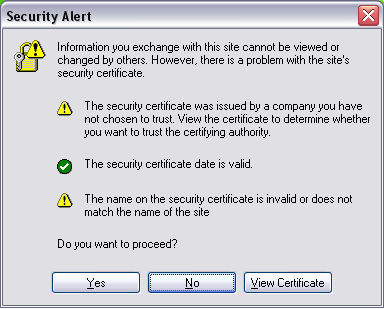 iManager uses Apache to help serve the page and Apache uses a certificate for security. A server certificate is signed by a Certificate Authority which is also known as the Root Certificate Authority. A web browser contains a certificate store where it stores all of the certificates it trusts such as Root Certificate Authorities, Intermediate Certificate Authorities and Personal certificates. When browing to a secure site, and avoid the security warning window, the browser's certificate store must contain (trust) the Root Certificate Authority, the certificate must be valid (not expired), and the certificate's subject name must match the domain name (or IP address) of the URL (i.e. https://
/nps).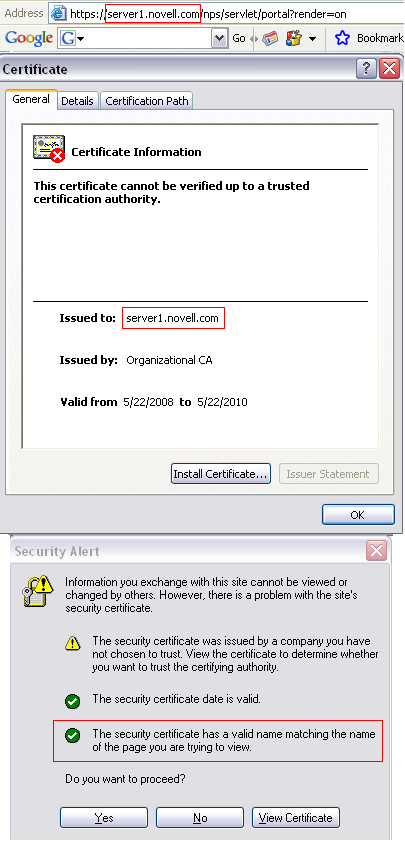 Novell Open Enterprise Server (NetWare based)
Using the default eDirectory certificate
How to use a Third-Party or Custom eDirectory certificate


Novell Open Enterprise Server (Linux based)
Using the default eDirectory certificate in Linux

How to use a Third-Party or Custom eDirectory certificate in Linux
Novell SUSE Linux Enterprise Server 10