Environment
Novell SecureLogin 6.1
Hot Fix 12 installed

Situation
Unable to install Novell SecureLogin HotFix 13
Unable to install Novell SecureLogin HotFix 14
NovellSecureLoginFIXB0902001.exe will not install
NovellSecureLoginFIXB0903001.exe will not install
Error: The upgrade patch cannot be installed by the Windows Installer service because the program to be upgraded may be missing or the upgrade patch my upgrade a different version of the program.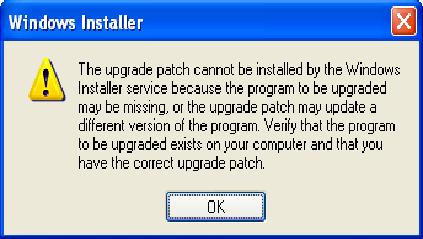 Resolution
Run
hf12fix.bat
before installing the patch 13 update.
This batch file is included with the patch 13 download and is located in the root directory of the extracted download file. It is not necessary to reboot after running this batch file. For details relating to automated deployment of this patch see section "4.0 Deploying Novell SecureLogin 6.1 Hotfix 13" in the readme included with the download file.
Additional Information
Note: This problem only occurs on workstations that have NSL6.1 hot fix 12 installed. Workstations running unpatched NSL6.1 or running NSL6.1 with hot fixes 1- 11 do not need to run this batch file. Launching the .msp file is all that is necessary to install patch 13 on NSL 6.1 workstations that are not running patch 12.