Environment
Novell ZENworks Handheld Management 7 - ZHM7
Novell ZENworks Server Management 7 - ZSM7 Tiered Electronic Distribution (TED)
Novell ZENworks Desktop Management 7 - ZDM7
Upgrading from previous versions of ZENworks, snapins for more than one ZENworks product installed in local copy of ConsoleOne
Situation
When upgrading to ZENworks 7, some entries on the Tools option in ConsoleOne may disappear.

If, for example, before the upgrade, the following options were seen: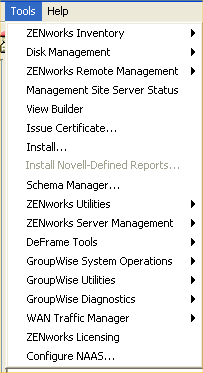 after the upgrade, many options are missing, and ZENworks Inventory is greyed-out like this: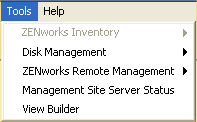 Resolution
After upgrading ZENworks Desktop Management, but have not upgraded Server Management or Handheld Management, complete the upgrade of the remaining components. If necessary, rerun the install, but do not select a tree, or try to select servers, this will install the ConsoleOne snapins only.
If, however, you have completed your upgrade and you still have this problem, check for versions of ZENLicensingRes.jar in the directories shown below - make sure the latest version is copied to the appropriate directories, depending on the ZENworks products you have installed - all instances of this file should be the same.
ZENworks Desktop Management, ZENworks Server Management, and ZENworks Handheld Management keep copies of the licensing jar file in different directories:
ZENworks Desktop Management - lib\zen
ZENworks Server Management Policies & Distribution - resources\zen
ZENworks Handheld Management - snapins\zen
and each is only upgraded by its own product. The copy in resources\zen takes precedence over that in lib\zen, so if you upgrade ZDM from an earlier version to 7 or 7 SP1, ConsoleOne will be using an old, incompatible version.