Environment
Novell ZENworks 10 Configuration Management
AdminStudio 8.5 ZENworks Edition
AdminStudio 9 ZENworks Edition

Situation
Invalid Usage error when launching AdminStudio 8.5 ZENworks Edition
ERROR: Your License for AdminSTudio ZENworks Edition allows only one activation per management zone per user. The application will now close. To obtain licenses for AdminStudio, please visit the Macrovision web site..."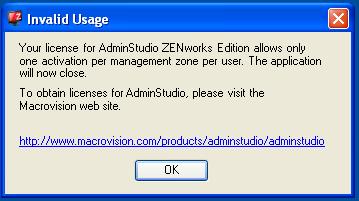 Re-imaged workstation running Admin Studio. Not able to install Admin Studio on same workstation or another workstation.
Resolution
To fix this issue for AdminStudio 8.5 do the following steps:
Run

C:\Program Files\Macrovision\AdminStudio\8.5\Common\RemoveUsage.exe

.

Do a full uninstall of the AdminStudio product from add/remove programs.

Run the install of AdminStudio software again.
Additional Information