Environment
Novell NetWare 6.5 Support Pack 4
Novell NetWare 6.5 Support Pack 6
Novell NetWare 6.5 Support Pack 5
Situation
After a McAfee update, the server abends when loading the McAfee scan engine. Additionally if you try to load McAfee manually from the server console command line you would see the McAfee screen appear then unload itself.
Resolution
Check to see if mcscan32.nlm by typing "m mcscan32" without quotes at command line. Should this module already be loaded then you would unload mcscan32.nlm and re-launch the netshld.ncf to resolve the issue.
Additional Information
This occurs so quickly that the system can not add anything to the activity.log file. You want to check the logger screen for any references of mcscan32.nlm having errors trying to load more than once.
Example 1: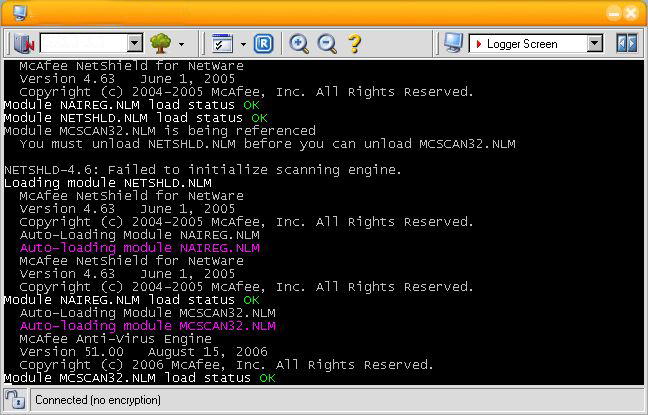 Example 2:
SERVERNAME:netshld
This path is ALREADY in use as Search 17
Search path was NOT added
Loading Module NETSHLD.NLM [ OK ]
Auto-Loading Module NAIREG.NLM [ OK ]
10-09-2007 11:02:21 am: SERVER-5.70-836
Error unloading killed loadable module (MCSCAN32.NLM) McAfee Anti-Virus
Engine