Environment
Novell ZENworks 7 Desktop Management Support Pack 1 - ZDM7 SP1 Imaging
Hewlett-Packard DC5750 version 786E3 v02.25 with Hewlett-Packard Company Ethernet controller vendor Broadcom
Situation
When booting from imaging Boot CD settings.txt is not read and the following error occurs:
ERROR:
"Please insert CD number 1"
Also can't get to a bash prompt in manual mode.
Resolution
For the lan driver problem:
To obtain access to a hot patch with the fix for this problem, follow the instructions in KB 3484245 "Updates to Novell ZENworks 7 Desktop Management" which can be found at https://www.novell.com/support
For the"Insert CD" problem, use the following boot option:
Additional Information
ZENworks 7 SP1 IR1 HP1 version is required for the nic driver support. This allows you to get to a bash prompt on manual mode. This also allows PXE to work correctly.
Additionally, the

usbwait

commandline parameter is required for the CD drive recognition for BootCD support.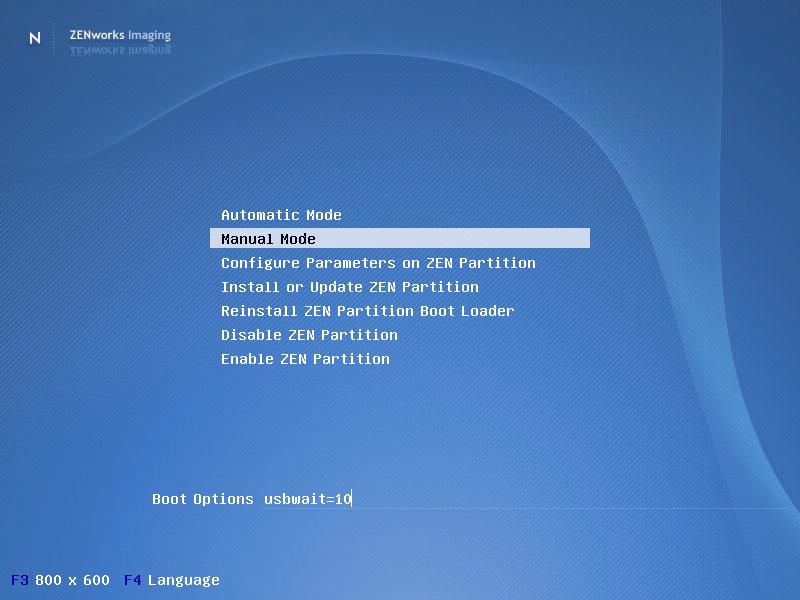 If you test usbwait and it resolves the cd read issue, modify isolinux.cfg to add this parameter to the BootCD image. For more information on how to add command line parameters to the BootCD see TID 3001732"Steps to create a ZENworks Imaging DVD" at https://support.novell.com.